Why this Product is Best?
Relite Dairy Software stands out as the unrivaled choice for dairy management, delivering a complete and integrated solution for dairy businesses. The software's seamless milk collection and sales tracking capabilities enable effortless management of supplier and customer transactions. Its efficient billing and accounting tools streamline financial processes, while advanced inventory management ensures smooth stock tracking and control. With a user-friendly interface and customizable features, Relite Dairy Software empowers dairy businesses to adapt easily to their specific needs.
Moreover, the software's comprehensive reporting and analytics offer valuable insights into business performance, enabling data-driven decision-making for enhanced efficiency and profitability. Real-time SMS notifications keep all stakeholders connected and informed, promoting seamless communication. The commitment to data security, compliance, and regular software updates ensures a reliable and protected dairy management experience. As a scalable solution compatible with various platforms, Relite Dairy Software caters to dairy businesses of all sizes, making it the ultimate choice for dairy management excellence.
What are the software features?
Relite Dairy Software offers a robust system to effortlessly record milk collection from suppliers and sales to customers. With easy data entry and real-time updates, managing your dairy operations becomes a breeze.
Effortlessly track milk collection & sales with real-time updates, making dairy operations a breeze.

Streamline billing & accounting for accurate financial management in your dairy business.

Advanced inventory management for smooth tracking & control of dairy stock.

Gain valuable insights with comprehensive reporting & analytics to optimize profitability.

User-friendly & customizable interface for quick team adaptation.

Stay connected with real-time SMS notifications for smooth communication with suppliers & customers.

Effortlessly manage supplier & customer details, evaluations, bills, & summaries.

Get reliable support & updates for a seamless experience & continuous improvement.

Prioritize data security & compliance for safe & confidential dairy data.

Scalable solution to meet the needs of growing dairy businesses.

Make the smart choice for dairy management - choose Relite Dairy Software for efficiency & accuracy.

More Useful Information! Discover What Sets Relite Dairy Software Apart
Comprehensive Dairy Management Features: Unlock the potential of our software with a rich array of dairy-specific tools. From efficient milk collection and sales tracking to advanced inventory management and billing solutions, streamline your entire dairy operations for optimal productivity.
Real-Time Analytics and Reporting: Make data-driven decisions with ease. Access detailed reports and insightful analytics on milk procurement, sales, financials, and more. Stay informed about the performance of your dairy business and identify opportunities for growth and improvement.
User-Focused Customization: Tailor the software to match your unique requirements. With a user-friendly interface and customizable features, adapt Relite Dairy Software to align perfectly with your dairy management needs. Experience the convenience of a software that evolves with your business, keeping you ahead in the dairy industry.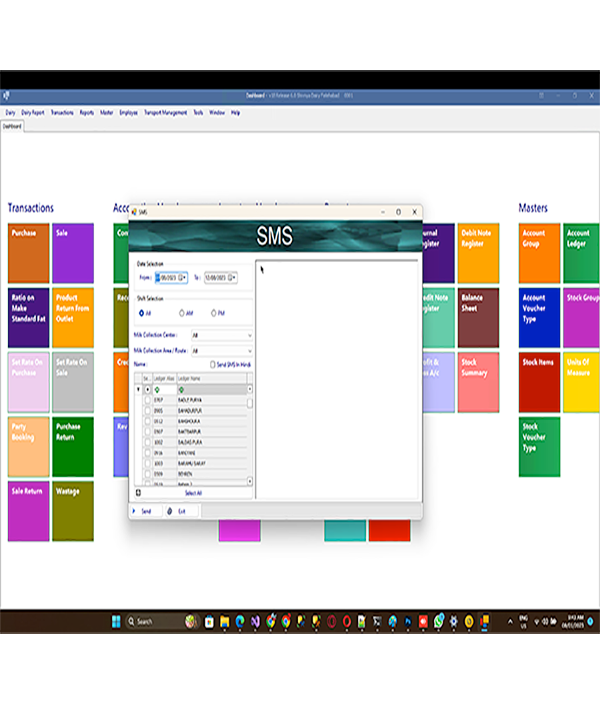 Dairy Management Made Easy
Streamline every aspect of your dairy operations with our intuitive and comprehensive software, simplifying milk collection, sales, inventory, and financial management.
Powerful Reporting and Analytics
Gain valuable insights into your dairy business performance with detailed reports and real-time analytics, empowering data-driven decisions for enhanced efficiency and profitability.
Customizable and User-Friendly Interface
Adapt the software to your specific needs with ease. Our user-friendly interface allows seamless customization, ensuring a tailored experience for your dairy business.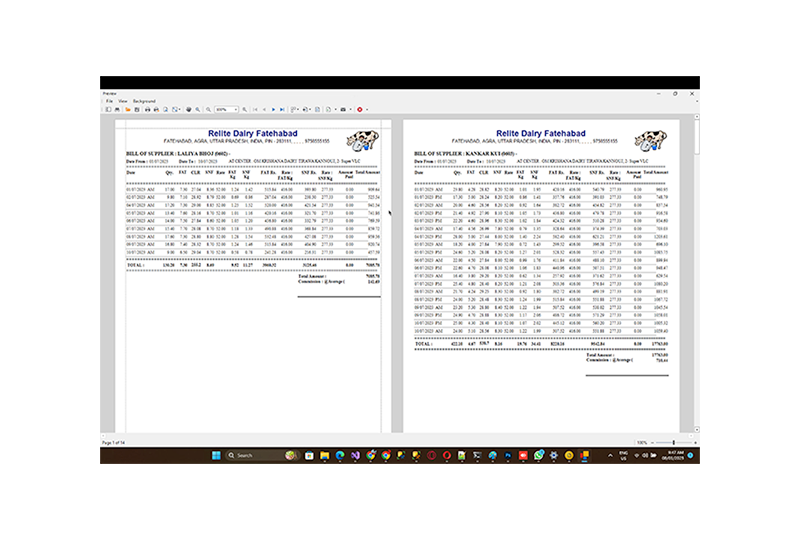 Secure and Reliable Solution
Rest assured with our commitment to data security and compliance. Your dairy data is protected and backed by reliable support and regular updates, ensuring a seamless experience.
Relite Dairy Software Specialities
Empowering dairy businesses with seamless milk collection, advanced inventory management, and comprehensive reporting for optimized efficiency and growth. Experience user-friendly customization and secure data management for a reliable and tailored dairy management solution.
Seamless Milk Collection Tracking
Effortlessly record and manage milk collection from suppliers with real-time updates for streamlined operations.
Integrated Billing and Accounting
Say goodbye to manual processes with comprehensive billing and accounting tools for accurate financial management.
Advanced Inventory Management
Track dairy stock efficiently, from stock in and out to transfers and physical stock tracking, ensuring optimal inventory control.
Robust Reporting and Analytics
Gain valuable insights into your dairy business performance with detailed reports and analytics for data-driven decision-making.
Real-Time SMS Notifications
Stay connected with suppliers and customers through instant SMS updates on milk collections, sales, and more.
User-Friendly Interface
Experience ease of use with an intuitive interface, allowing your team to adapt quickly and efficiently.
Multi-Platform Compatibility
Access dairy data anytime, anywhere, on desktop, web, Android, and iOS platforms for enhanced flexibility.
Scalable Solution
Whether you have a small dairy farm or a large-scale operation, our software grows with your business to meet evolving needs.
At Relite Solutions, we take pride in our exceptional software products and services, as reflected in our impressive performance metrics. With thousands of app downloads, users worldwide have embraced our seamless and innovative solutions, reveling in the exceptional user experience we provide.
Our client-focused approach has earned us a rapidly growing base of happy clients who have entrusted their businesses to our tailored software solutions. The community of active accounts continues to expand, testament to the reliability and value our platform brings to businesses. Moreover, our app's soaring total rates demonstrate the trust and satisfaction of our users, reaffirming our commitment to delivering excellence and pushing the boundaries of what technology can achieve.
Download